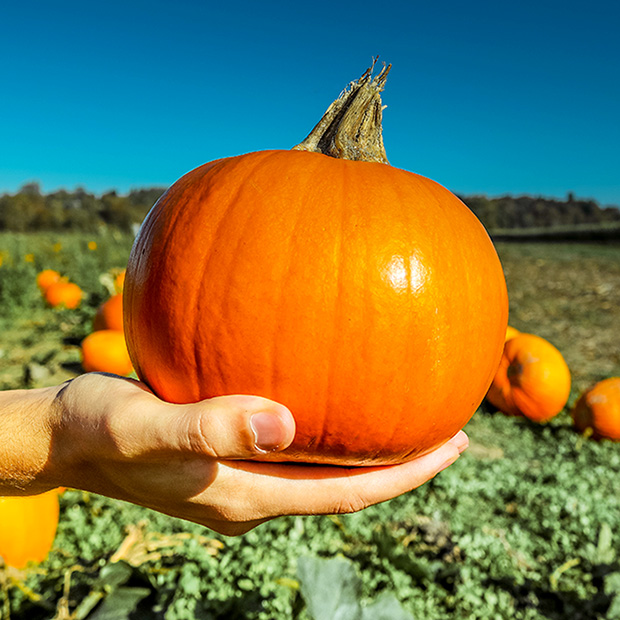 'Tis the season for everything pumpkin. As the poster child of fall, pumpkin doesn't just star in our autumnal decorations, it shows up on our menus too.
And as far as we're concerned, that's a good thing. Pumpkin is great for your oral and overall health!
Pumpkin: Fall's Superfood
We're glad pumpkin has so many health benefits because it sure is delicious! Pumpkins are high in fiber and are a great source of beta-carotene, which are both important for our health in various ways. They're also full of potassium which can help lower blood pressure. But the reason we love pumpkin is that it's great for your smile!
[iframe https://www.youtube.com/embed/cqklBTTxDR8?rel=0 620 349]
Pumpkins benefit your oral health because they are:
A great source of zinc. Zinc is considered an anti-plaque agent and is often added to toothpaste to prevent buildup. It also strengthens teeth and bones and boosts gum health.
Rich in vitamins. Vitamin A found in pumpkin aids in the flow of saliva, keeping your teeth clean and protecting them from decay. Pumpkin's vitamin C contributes to a healthy immune system, helping you to fight off oral infections.
High in magnesium. In tandem with calcium, magnesium strengthens tooth enamel and prevents decay. Without magnesium, our enamel would be much weaker and more susceptible to cavity-causing bacteria.
Not All Pumpkin Treats Are Good For You
Now before you go running off to Starbucks for that pumpkin spice latte or the bakery for a batch of pumpkin chocolate chip cookies, there are a few things you should know. Not everything you encounter with pumpkin in it is going to benefit your health.
A lot of the most popular pumpkin snacks–pumpkin pie, bread and cake, in addition to the aforementioned treats–should actually be considered desserts because of their high sugar content. So when it comes to these sugar-filled pumpkin treats, consume them in moderation.
Here are some healthier ways to satisfy your pumpkin cravings this fall:
Baked pumpkin seeds–a guilt-free, vitamin-filled snack
Pumpkin smoothie–perfect for breakfast or as a dessert substitute
Pumpkin soup–a great way to warm up in the colder autumn weather
Roasted pumpkin–make it the main course, use it as a side dish, or throw it in a salad
Enjoy The Fall Season
Nothing says autumn more than the big orange fruit. When you're eating all that pumpkin this fall, remember that you're not only satisfying your tastebuds, but you're also boosting your oral and overall health! So go ahead, eat more pumpkin.
Wishing a wonderful autumn to all our patients.
The content on this blog is not intended to be a substitute for professional medical advice, diagnosis, or treatment. Always seek the advice of qualified health providers with questions you may have regarding medical conditions.